Unite call over offshore helicopter safety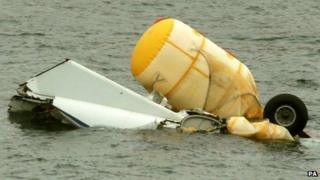 Oil and gas industry workers have joined union leaders to launch a campaign calling for improvements to the safety of offshore flights.
Four people died when a Super Puma helicopter went down on approach to Sumburgh Airport on 23 August.
The Unite union said hundreds of workers had come forward with concerns, ahead of the launch of the Back Home Safe campaign in Aberdeen.
Industry body Oil and Gas UK said it understood the concerns.
The organisation said it was continuing to work with its members, helicopter operators and unions on addressing the issues.
'Legitimate concerns'
Unite said a survey of 532 workers revealed that 50.7% were not confident about the safety of offshore helicopter flights.
A total of 81% said that their confidence had decreased in the past 12 months.
Unite regional officer Tommy Campbell said: "Unite has spoken to hundreds of offshore workers who have clearly expressed their legitimate concerns but they have also made concrete proposals to improve safety.
"Over 1,500 offshore workers have already backed a petition calling for action which will be presented to Oil and Gas UK next month.
"Overwhelmingly offshore workers are demanding action from the industry to improve the safety of offshore helicopter flights - Oil and Gas UK must now act."
Sarah Darnley, 45, from Elgin, Gary McCrossan, 59, from Inverness, Duncan Munro, 46, from Bishop Auckland, and George Allison, 57, from Winchester, lost their lives in the Shetland crash.