Firefighters tackle major blaze at former Royal Cornhill Hospital in Aberdeen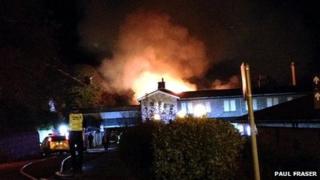 Dozens of firefighters spent the night tackling a major blaze at a derelict former hospital building in Aberdeen.
As many as 70 firefighters were involved in the incident at Royal Cornhill Hospital.
The cause of the fire is being treated as unexplained.
An investigation will get under way as soon as it is deemed safe to do so, but the intensity of the blaze meant that the building suffered structural damage.
Do you have pictures or video of this incident? Send them to the BBC Scotland news website at newsonlinescotland@bbc.co.uk
Please ensure when filming or photographing an incident that you make your safety and the safety of others a priority.
If you submit an image, you do so in accordance with the BBC's Terms and Conditions.