Stonehaven flood protection scheme work set to start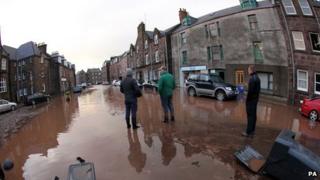 Work on the smaller scale elements of the Stonehaven flood protection scheme is expected to get under way at the end of this week.
Dozens of homes were evacuated, and properties damaged, after the River Carron burst its banks in December last year.
Aberdeenshire Council has appointed contractors to start the work.
Views gathered from the public on ongoing flood plans will be reported to local councillors on 19 November.