'Virtual visiting' for prisoners ahead of Grampian Prison opening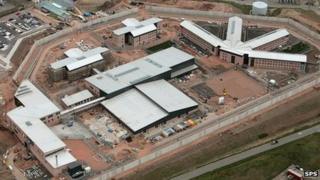 Prisoners being decamped from the soon-to-close Peterhead and Aberdeen jails are to pilot a new 'virtual visiting' project to keep in touch with loved ones, BBC Scotland can reveal.
The new Grampian Prison opens next year, and inmates are moving south during the transition.
Relatives will be able to use a video link being set up in Aberdeen to see and speak to them.
The hub is being set up at the offices of charity Apex Scotland.
It supports prisoners and ex-offenders and their families.
The pilot project could eventually be rolled out.
'Feel remote'
Peterhead and Aberdeen prisons governor Audrey Mooney told BBC Scotland: "The person will be in front of a screen.
"It saves money and time and allows regular contact for the prisoners, who could feel remote."
Apex Scotland operations manager Gerard McEneany said: "It has always been important there's been a link with families.
"Visiting will be more problematic. This way is a good opportunity to keep that link going."
A spokesman for the Scottish Prison Service said maintaining strong family links was seen as a key factor in reducing reoffending.
He said: "Providing video facilities for families from the North East to maintain contact with those in custody prior to the opening of the new HMP Grampian is part of that process.
"We are looking a number of other options of ways in which a better use of new technology can improve and enhance the work we do."