Bird airlifted to safety from North Sea rig released back into wild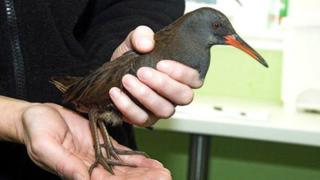 A bird airlifted ashore after being found exhausted on a North Sea oil rig has been released back into the wild.
The water rail was put on a helicopter to Aberdeen last month before being nursed back to health by the Scottish SPCA at its rescue centre in Alloa.
Centre manager Colin Seddon said: "This water rail was likely a winter migrant from Northern Europe who got caught up in strong winds over the North Sea.
"It seems the bird became exhausted and managed to find refuge on the oil rig."
He added: "It was unable to fly off again so we were contacted for help.
"The water rail was fit and well by the time it was released."