Insulin scientist JJR Macleod honoured by plaque in Aberdeen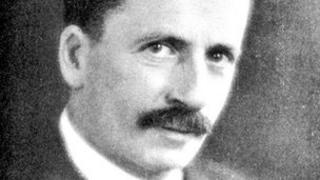 A plaque to remember the Nobel Prize-winning scientist who helped discover insulin has been unveiled in Aberdeen.
John James Rickard (JJR) Macleod was born in Perthshire in 1876 before moving to Aberdeen to live and work.
The discovery paved the way for life-saving treatments for diabetics.
A clinic at Foresterhill has been named in his honour, and a plaque was unveiled to mark the JJR Macleod Centre for Diabetes, Endocrinology and Metabolism.
The scientist was awarded the Nobel Prize in 1923, with Frederick Banting, for discovering insulin.
Historian Prof Michael Bliss said: "The discovery of insulin was one of the most dramatic events in the history of medicine, and there was one of Aberdeen's sons at the heart of it."
JJR Macleod died in 1935.