Owner of shot Elgin cat sought by Scottish SPCA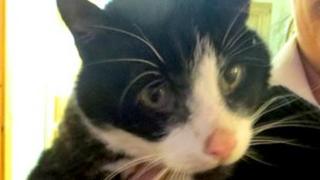 The owner of a cat shot with an airgun in Elgin is being sought by the Scottish SPCA.
The black and white male cat was discovered injured at Forbes Court, and an airgun pellet was later removed.
The cat is now recovering at the charity's Highlands and Islands rescue and rehoming centre in Inverness, where he has been named Melvin.
The Scottish SPCA said it was another example of a "defenceless animal" being targeted.
A spokesperson said: "Melvin has suffered quite an ordeal but he's a lovely friendly boy who's doing well in our care.
"Unfortunately, Melvin isn't microchipped and there were no contact details on his collar.
"If he has gone missing, we're sure his owner must be very worried and we would really like to return him to the comfort of his own home while he recuperates.
"If no-one comes forward for Melvin, we will find him a new home once he has made a full recovery."