Concern at 'dirty' Aberdeen Maternity Hospital leads to changes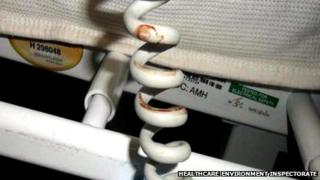 Aberdeen Maternity Hospital was so dirty that inspectors raised concerns with the Scottish government, it has been revealed.
Representatives of the Healthcare Environment Inspectorate (HEI) found blood on mattresses, bed rails and bed controls, contaminated incubators and cots, and rusty scrubbing-up sinks.
The chief inspector issued seven requirements that must be met.
NHS Grampian said all the issues highlighted had been urgently tackled.
It said plans needed to be drawn up for a replacement facility.
The cleanliness watchdog HEI had visited in August this year and scheduled a follow-up inspection due to concerns.
The problems remained on two follow-up inspections.
HEI chief Inspector Susan Brimelow said: "I am very disappointed at the findings from our inspection to Aberdeen Maternity Hospital and because of the serious nature of the findings, I escalated my concerns to the Scottish government.
"Inspectors visited Aberdeen Maternity Hospital on three separate occasions, and on all inspections the cleanliness of patient equipment and the environment were not satisfactory.
"Every patient coming into hospital should expect their local hospital to be clean and safe."
'Learn from this'
NHS Grampian said all of the issues raised in the report had been tackled as a "matter of urgency", and all the requirements and recommendations were being addressed.
Chief executive Richard Carey said: "It is vitally important that we learn from this inspection and act swiftly on its recommendations.
"Patient safety is at the core of what we do and remains a top priority for all our staff to whom I am very grateful for their tireless efforts to address the inspectorate's concerns.
"The report also highlights shortfalls in the operating theatre at Aberdeen Maternity Hospital. A new theatre had already been planned and will be opening very soon.
"The issue with theatres reflects the wider difficulties associated with maintaining infection control and other technical standards in ageing hospitals such as Aberdeen Maternity Hospital."
He added: "NHS Grampian's position is that plans will need to be drawn up in the next few years for a replacement at Foresterhill for the existing maternity hospital."
Health Secretary Alex Neil said: "All patients and parents of new born babies deserve to have confidence in the cleanliness of wards and the quality of care and I am extremely disappointed that families in NHS Grampian have been let down in this way.
"We will be working closely with NHS Grampian to monitor progress against the implementation of its action plan to ensure it delivers real improvements on the standard of care provided across NHS Grampian."
Theresa Fyffe, director of Royal College of Nursing (RCN) Scotland, said: "This is a hugely disappointing inspection report.
"It raises serious concerns which the health board must address urgently if it is to reassure parents-to-be that the maternity hospital is able to look after new mums and babies to the high standard they expect and deserve.
"I'm glad the board has already started to work on the problems identified in the report and are working with staff at all levels to address these.
"One thing the report highlights is the importance of having monitoring systems and processes in place so that senior healthcare staff and managers and the public can be confident that effective action is being taken to improve standards of care in the hospital. This must be implemented as soon as possible."
She added: "Furthermore, the report once again shines a light on the hugely important role that senior charge nurses have for cleanliness and maintenance of standards on their wards, and this is an issue that NHS Grampian must tackle once and for all, so that senior charge nurses are not only clear about their responsibilities but have the authority to act."