Consultation on former Aberdeen City Council HQ plans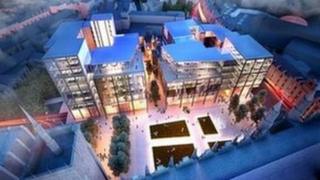 A consultation on the future shape of part of Aberdeen city centre is getting under way.
Muse Developments has been chosen by the city council to deliver a civic square, offices, hotel and shops on the site of its former headquarters at St Nicholas House.
The site is currently being demolished.
More than 1,000 council staff vacated the 14-storey building, erected in 1968, for the newly-refurbished Marischal College building in 2011.
Muse insists the final design will be sympathetic to its neighbours.