Stonehaven flood relief fund being wound up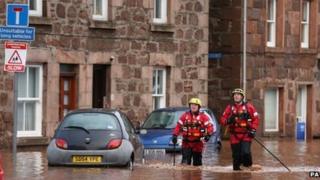 A flood relief fund set up to help those affected by flooding in Stonehaven last December is to be wound up.
It has helped scores of householders and businesses by providing financial aid to cover some of the costs incurred after the floods.
The trustees have now decided to wind up the scheme.
They are making a final appeal for anyone with any outstanding claims.
Dozens of homes were evacuated, and properties damaged, after the River Carron burst its banks on 23 December.