Orkney pup gives BBC's Great British Year filming a seal of approval
A cameraman had an unexpected regular visitor while filming seals in Orkney for the BBC's The Great British Year television programme.
Raymond Besant was filming a grey seal colony from a hide, but discovered it damaged.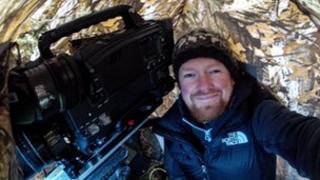 To his surprise, he found one of the seal pups hiding inside - and it kept returning.
Mr Besant said: "He did have the good grace to get out when he saw me approaching."
He explained: "I was filming over a period of three weeks and had a hide positioned at the top of the shore to avoid disturbing the seals too much.
"But after two weeks of filming I noticed one morning that the hide looked damaged.
"I thought it was just the bad weather but when I opened the back of the hide I found a young seal sleeping inside it."
'Couldn't stop him'
He went on: "The dilemma was how to get him out of the hide, I needed to get on with filming and I didn't want to get bitten.
"I gently shook the hide and eventually he shuffled out. He had wrecked the hide, he was still moulting so there was fur everywhere and it smelled pretty bad, like wet dog.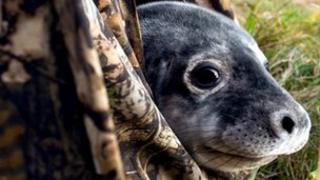 "I put some driftwood and things that were lying on the shore across the entrance to stop him coming in again as he had bent the hide poles over so far I couldn't close the entrance properly."
"When I came down the next morning I was surprised to see his head poking out again. The wood was no barrier, he just bounced over the top of it.
"So I took the driftwood away and decided that if he was going to go in I couldn't stop him. So for a week I arrived each morning to find him there."
The wildlife cameraman added: "He was just a clever seal that had found somewhere warm and dry to stay."
The footage appears in the autumn programme of The Great British Year which airs on BBC1 at 21:00 on Wednesday and is also available on the iPlayer.