Al Kindi and the Whirling Dervishes of Damascus refused UK entry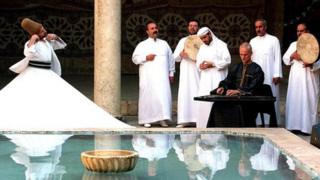 Aberdeen's Sound Festival has had to cancel its headline act after a group of Syrian performers was refused entry to the UK.
Al Kindi and the Whirling Dervishes of Damascus were due to open the festival on Friday but the group was refused entry visas by the Home Office.
It is believed to be over doubts they would leave the UK after performing.
The festival's director Fiona Robertson said the group regularly tour Europe so it was unfortunate news.
She said: "We are hugely disappointed that audiences in the UK will not be able to see the astonishing music and dance experience of this internationally acclaimed ensemble.
"It would have been particularly important to see a positive story emerging from a country which is only ever portrayed now as a desperate war zone."
A Home Office spokesperson said: "All visa applications are considered on their individual merits and in line with the immigration rules."