Aberdeen City Council earmarks £20m for city centre revamp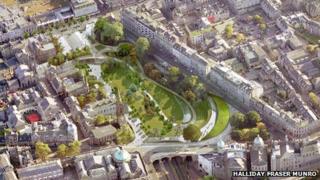 Aberdeen City Council has earmarked £20m to help transform the city centre, BBC Scotland has learned.
However, following years of debate about how to make improvements, a final design has still not been drawn up.
Businessman Sir Ian Wood has indicated that money from the Wood Family Trust could still be made available for a "transformational" project.
Sir Ian originally offered £50m towards the £140m City Garden Project which was later rejected by the council.
Apart from providing funding, the city council also hopes that Sir Ian will join a board created to come up with fresh proposals to redevelop the city centre.
But the council's finance convenor, Willie Young, said the authority would press ahead with plans even without the guarantee of Sir Ian's money.
He also said it would not be a second-class development if the entrepreneur did not come on board.
Mr Young told BBC Scotland: "There will be other sources of funding. We will be speaking to the Scottish government, UK government and other businesses.
"Just because Sir Ian Wood comes on board, or doesn't come on board, the city centre regeneration will happen."
New plan
He added: "We want something that will deliver for the people of Aberdeen that won't divide the city.
"What we've said is that there must be Victorian gardens within the city. Other than that we are happy to compromise.
"What we are saying to Sir Ian Wood and to the business sector is 'if we are willing to compromise, you have to compromise as well'."
New proposals by architect John Halliday have been put forward for a major renovation of Union Terrace Gardens.
His design would see the gardens partly raised but remain sunken.
The plans feature an arts centre, civic square, a new entrance to the railway station and the rail line and Denburn dual carriageway covered over to link to Belmont Street.