Aberdeen plans new £200m conference centre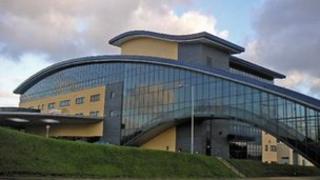 A new £200m concert and conference venue could be on the cards for Aberdeen, council leaders have said.
They want to invest in a replacement for the current Aberdeen Exhibition and Conference Centre (AECC).
Under the plans the AECC - which is sited at the Bridge of Don - would continue to operate until the new venue was built, which could be by 2017.
BBC Scotland understands that the new venue could be built in Dyce, close to Aberdeen International Airport.
Tory councillor Ross Thomson, a member of the city's ruling administration, said the council wanted to speak to the Scottish government to ask if they would provide financial support for the project.
'International interest'
He said: "The Scottish government at the moment funds the SECC in Glasgow, and also the concert venue in Edinburgh.
"Aberdeen is so strategic and so important, not just to the Scottish economy but also to the rest of the UK, particularly with big exhibitions such as Offshore Europe.
"We think there would be an opportunity for the Scottish government to re-evaluate the way it funds some of the other venues in Scotland and maybe look at diverting some of their funds to Aberdeen.
"There is also international interest in the exhibition centre and we might be able to work with other partners to deliver the project".
Mr Thomson said the current AECC site was restricted in terms of the space available for expansion.
He added: "We would be looking at doing something entirely new, I think. We would have to keep the Bridge of Don site available for 2015, which is when the next Offshore Europe is coming, but we would hope to have a new a new facility ready for Offshore Europe in 2017."
The current conference centre brings in tens of millions of pounds annually for the local economy, and is seen as vital to Aberdeen's status as an energy capital and host of the Offshore Europe events.
But the council has has had to bail out the venue several times in recent years.
Last year, the local authority said it would write off loans of £26.2m in order to give the AECC a "firmer financial footing".