Aberdeen rents pass £1,000 a month according to Citylets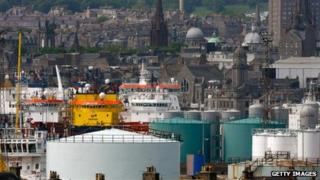 Private property rents in Aberdeen are now averaging more than £1,000 a month, according to a study.
Letting website Citylets said the average tenant in the city is paying out £1,002.
That is an increase of 11.5% on last year's figures.
It also places Aberdeen as the most expensive place to rent in Scotland, with the average lease in Edinburgh said to be £820 a month, and Glasgow at £618.
Dan Cookson, a senior analyst at Citylets, said: "Aberdeen continues to set itself apart from the Scottish rental sector with supply shortages fuelling price hikes.
"Numbers of rental properties advertised in Aberdeen city centre have fallen by nearly 50% this summer, while the continual growth of the oil and gas industry has seen the numbers of people locating to the city grow.
"The shortage in quality rental stock is reflected by the fact that a typical property is only the market for less than two weeks before being snapped up - with more than half of Aberdeen properties let within a week of being advertised.
"Large premium properties, favoured by executives and their families, have recorded the highest growth in rents."
He added: "With limited new homes being built in the city, it seems fair to deduce that in future rent levels will continue their path upwards."
Recent figures showed Aberdeen's house prices had doubled in a decade.