Ryder Cup hero Bernard Gallacher hopes for golf course defibrillators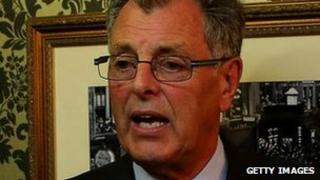 Former Ryder Cup captain Bernard Gallacher wants defibrillators made available at golf courses, following his recovery from a heart attack.
Gallacher, 64, led Europe to victory over the United States in 1995.
He spent several days in Aberdeen Royal Infirmary after falling ill in August.
A statement from his management company said: "He will be championing a campaign to make defibrillators widely accessible at golf courses around the UK."
It added: "Thanks to the composed and quick thinking of staff and guests at the engagement, as well as quick access to a defibrillator, Bernard is now on his way to making a full recovery with no long-term effects expected.
"The availability of a defibrillator was central in giving him a chance of survival.
"The support and well wishes received throughout Bernard's time in hospital and since returning home have been incredible, and he would like to pass his sincere thanks to his sponsors and supporters for their kind words, thoughts and prayers."
Bathgate-born Gallacher won 10 European Tour titles.
He made his debut in the competition as a player in 1969, the same year he became the youngest winner of the PGA Championship at 20 years and 97 days.
It was a record that stood until earlier this year, when Italian Matteo Manassero triumphed at Wentworth aged 20 years and 37 days.