Aberdeen flights resume after air ambulance runway incident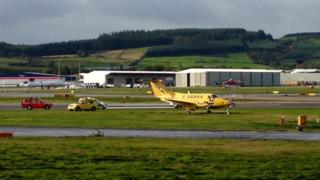 Flights in and out of Aberdeen International Airport have resumed after an air ambulance left the runway while taxiing.
The Scottish Ambulance Service said its aircraft, operated by Gama Aviation, was involved in the incident just before 12:00.
A patient, being routinely transferred from Shetland, was on board the plane, along with an escort, a paramedic and two crew. No-one was injured.
There was no damage to the aircraft.
All flights were suspended for about three hours and services were diverted to Edinburgh and Glasgow.
A spokesman for the ambulance service said: "An air ambulance plane on a routine non-emergency transfer from Shetland appears to have come off the runway at Aberdeen while taxiing after landing.
"There were no injuries to anyone on board and the patient has been transferred to hospital."
In a statement, Gama Aviation said a full investigation was underway.
It said: "Today at 11:49 local time a Beechcraft King Air 200 aircraft, operated on behalf of the Scottish Air Ambulance by Gama Aviation Ltd, undertook a normal landing at Aberdeen Airport, following a routine patient transfer from Lerwick.
"Whilst entering the taxiway, the aircraft experienced steering difficulties and departed the runway onto the grass."