Rare Jerdon's Courser egg discovered at University of Aberdeen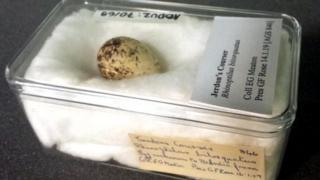 A rare egg of an endangered bird from India has been discovered at the University of Aberdeen, and it is hoped it could help save the species.
The breeding habits of the Jerdon's Courser are mysterious.
DNA analysis was used to identify the egg as belonging to the bird, after it was unearthed within an old collection at the institution's zoology museum.
It is now hoped the discovery could help conservationists working to save the species in India.
Dr Alan Knox, the university's emeritus head of museums who found the egg among a collection dating back to the 1900s, said: "I was looking through drawers of uncatalogued eggs when I spotted an egg labelled as belonging to this species.
"It was one of those eureka moments - finding something nobody else knows about, something so rare and exciting. I could hardly believe my eyes.
"My first question was how do you identify something that the books say has never been discovered?"
He continued: "Very little is actually known about this extremely rare bird which inhabits an area only a few kilometres wide.
"It was seen only a few times in southern India before it was presumed extinct around 1900. It was rediscovered in 1986 but is listed as a critically endangered species.
"Without any others to compare it with, the process of correctly identifying the egg was a challenge."
Dr Knox took the egg to the Natural History Museum in Tring, Hertfordshire, and the identification was confirmed after DNA was extracted from dried-up membrane scraped from the inside of the egg.
He added: "We are hoping the discovery will help conservationists working to save the species in India."