Andrius Juselis, 27, identified as man found on Aberdeen beachfront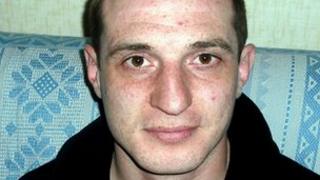 A man whose body was found in Aberdeen has been identified after a police appeal involving an artist's impression.
Andrius Juselis, 27, a Lithuanian national living in the city, was found on Sunday 8 September in The Boardwalk at the beachfront.
The father-of-one's death is not being treated as suspicious.
Police thanked the public and the media for their role in helping to identify Mr Juselis.
PC John Urquhart said: "This is a very sad set of circumstances and an upsetting time for his family in Lithuania, who now need to come to terms with the loss of their loved one.
"They had become increasingly concerned when they had not heard from him.
"However, when they were made aware of the media coverage surrounding the discovery they contacted the Lithuanian Consulate, who got in touch with us and we have sadly been able to confirm that the body was that of Andrius Juselis.
"I would like to offer my thanks to those who contacted us and came forward with possible names, and to the media in keeping this case in the public eye, which has undoubtedly helped to solve this mystery."