Nat Fraser case: Husband loses appeal against wife murder conviction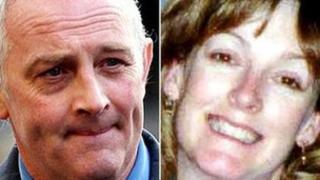 Nat Fraser has lost his appeal against his conviction for murdering his wife Arlene.
Fraser, 54, has twice been convicted of hiring a hitman to murder his estranged wife, who vanished from her home in Elgin, Moray, in April 1998. She has never been found.
Fraser was found guilty of murder in 2003 but started a lengthy appeal process which led to a retrial.
He was found guilty of murder for a second time last year.
Relatives of Mrs Fraser welcomed the appeal decision, and said their message to Fraser was: "He should do his time."
Fraser was jailed for a minimum of 17 years but his defence team argued at the appeal that remarks made by a trial witness may have led jurors to carry out online "research" into the background to the case.
They blamed a so-called "Google-factor".
'Directions were followed'
The appeal judges ruled: "The trial judge provided clear and repeated directions to the jury during the trial and again at its conclusion in the charge itself, shortly before the jury retired to consider their verdict.
"In the absence of material which would tend to demonstrate the contrary, the court must proceed on the basis that the directions were followed.
"In this case the appeal court considered that the trial judge took into account all the relevant factors before deciding upon the appropriate course of action. He reached a balanced and reasonable decision based upon these factors.
"In such circumstances the court was unable to find fault in his decision."
'We are happy'
Mrs Fraser's mother Isabelle Thompson said afterwards of the appeal: "Hopefully we can get on with our lives, it's been never-ending."
Her father, Hector McInnes, said: "Obviously we are happy it's all finished.
"We have had to come here too often. He should do his time."