Scotland The What? comedian George Donald dies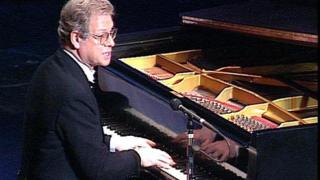 Scotland The What? comedy star George Donald has died.
The trio - which also included the late Steve Robertson and William "Buff" Hardie - made their debut in 1969.
Mr Donald, 79, a talented pianist, was regarded as the musical brains of Scotland the What?
The north east entertainers had a career which took them around the world, and were made MBEs for services to entertainment in Scotland in 1995.
Mr Donald died at his home in Perth.
'Made us classy'
The trio, who were said to have brought a brand of local humour to a global audience, received the freedom of Aberdeen in 2008.
Many of their sketches and songs were performed in the north east Doric dialect.
Mr Hardie told BBC Scotland: "George was a vital part of the show's chemistry. More than that, he was a very good friend for 55 years.
"He was ill for many years, as long ago as the time we we were given the Freedom of the City of Aberdeen. But he carried on performing for years afterwards. That took courage."
He added: "He was a great performer - as a pianist and accompanist.
"I don't know anyone else who could have done what he did. He was incredibly versatile.
"We came to be known as couthy and classy - it was George who made us classy."
'Broad smiles'
Aberdeen City Council said its flag would fly at half mast as a mark of respect.
Lord Provost George Adam said: "George Donald was an exceptional musician, a brilliant entertainer and a true gentleman.
"His talents as a pianist inspired countless pupils and performers, and everyone lucky enough to see him on stage with Scotland the What? went home with broad smiles on their faces.
"Our thoughts are with his family and friends."
Mr Robertson died in 2011.