Vos Sailor North Sea rescue: Four helicopter crew honoured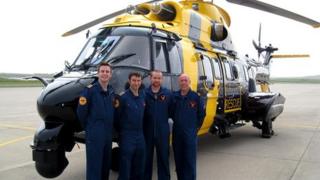 Four helicopter crewmen have been recognised for their role in a North Sea rescue after an oil industry vessel was struck by a wave during storms.
Vos Sailor crew member Joseph Laws, 50, of Hull, died when the supply vessel was damaged about 120 miles off Aberdeen in December.
Others had to be airlifted to safety.
Bond helicopter crew members Graham Stein, Nick Smalley, Paul Walters and Andy Cowx have been honoured by the Shipwrecked Mariners' Society.
They have been presented with the Edward and Maisie Lewis Award at the annual Skill and Gallantry Awards, which recognise the bravery of those who risk their lives in dangerous rescues.
Winchman Andy Cowx also received an individual commendation.
High seas with strong winds were causing the vessel to move violently.
In the dark, the winchman was successfully lowered to the vessel, but landed heavily on the deck as it pitched and suffered serious foot injuries.
However, he continued with the rescue.
Commodore Malcolm Williams, chief executive of the Shipwrecked Mariners' Society, said: "Good leadership, outstanding professionalism and teamwork, courage and determination ensured that 11 men were successfully evacuated from the Vos Sailor.
"Every year I am amazed by the bravery shown by men and women across the UK who risk their lives to save others.
"The Shipwrecked Mariners' Society Skill and Gallantry Awards ceremony is an important event which helps to spread the word about these rescuers' achievements and gives public recognition to their selfless commitment to saving lives at sea."
Also honoured was Christine Simpson, for her 25-year service for the Royal National Mission to Deep Sea Fishermen at Fraserburgh.
The Lord Lewin Award is presented to charity volunteers who have given exceptional service.