Malcolm Webster case: Witness appearance 'was not unfair'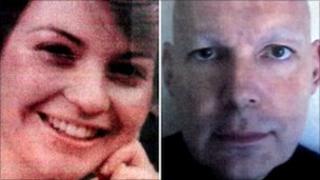 The appearance of a witness at the trial of a man convicted of murdering his wife in an Aberdeenshire crash was not unfair, appeal judges have been told.
Malcolm Webster, 54, of Surrey, was jailed for a minimum of 30 years for murdering Claire Morris in 1994.
He was also convicted of staging a similar attempt to murder his second wife in New Zealand.
The Crown has dismissed claims of a miscarriage of justice.
Webster was found guilty in 2011 of murdering Ms Morris, 32, who was originally from Kent, in a faked car crash.
The jury at the High Court in Glasgow accepted that he set fire to the vehicle with his unconscious wife inside it, before later receiving an insurance payout.
Defence counsel Gary Allan QC has told the Court of Criminal Appeal that trial judge Lord Bannatyne was wrong to allow farm worker Iain Hardie to give evidence during the trial.
Mr Hardie contacted police when he recognised Webster's photo as a result of media coverage during the early days of the trial.
'Surprise witness'
He went on to tell the jury how he saw Webster at the spot at the scene of the crash several days before the fatal incident.
Mr Allan told Lord Eassie, sitting with Lady Clark and Lord Wheatley: "I have a picture of an American courtroom scene with a surprise witness bursting in through the door."
But advocate depute Derek Ogg QC, for the Crown, rubbished claims that Webster had suffered a miscarriage of justice as a result.
Mr Ogg said parliament had laid down rules for dealing with such situations - and Lord Bannatyne had followed them.
Later date
It was a "spontaneous identification" of Webster which had led Mr Hardie to contact the authorities when the photos triggered his memory, he said.
"This was someone who did not realise his own evidence may have been of relevance," said Mr Ogg. "Mr Hardie was not aware of the significance of what he had seen."
Now Webster faces a wait while judges decide whether the jury's verdict should stand.
They will issue their ruling, in writing, at a later date still to be fixed.