Review into North Sea offshore helicopter operations announced by CAA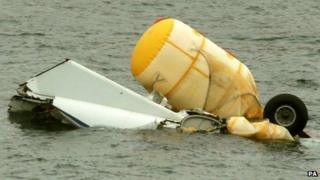 The operations of helicopters in the North Sea are to be reviewed in the wake of recent accidents, the Civil Aviation Authority has announced.
The regulator said it would work with its Norwegian counterpart and the European Aviation Safety Agency to draw up a report, which it expects to publish early next year.
It will examine areas including helicopter airworthiness and training.
Four people died in a Super Puma crash last month.
The British Airline Pilots' Association (Balpa) said its initial reaction to the CCA-led review was that it was "too little, too late".
The crash off Shetland was the fifth accident in four years, two of which caused fatalities.
The review will also focus on "operator decision making and internal management" and the "protection of passengers and crew".
Mark Swan, director of the CAA's safety and airspace regulation group, said: "The recent accidents have understandably given rise to concerns, particularly with offshore workers who rely so heavily on these helicopter flights.
"We are absolutely committed to ensuring that operations are as safe as possible.
"The review we are announcing today will thoroughly examine the risks and hazards of operating in the North Sea and how these can be managed most effectively."
He added: "We are extremely grateful to Geir Hamre from the Norwegian CAA and the European Aviation Safety Agency for joining the review team.
"They bring additional expertise and experience which will be invaluable to the review."
'Not a substitute'
A statement from Balpa said: "We will consult with those members currently operating in the North Sea as to their views on the effectiveness of a CAA-led review, but our immediate reaction is this is too little, too late.
"BALPA has called on the government to set up a judicial-led independent review along the lines of the post-Piper Alpha inquiry led by Lord Cullen.
"Today's announcement by the CAA does not do it for us."
Bob Crow, general secretary of the RMT union, said: "RMT welcomes this CAA investigation but it should be seen as an addition and not a substitute for the full public inquiry that RMT is demanding into the Super Puma tragedy.
"RMT is also demanding an investigation in to North Sea safety which extends beyond just the use of helicopters but which covers every aspect of the offshore working environment.
"Twenty-five years after Piper Alpha the industry owes its workforce nothing less than that."
An investigation into the CHC-operated Super Puma AS332 L2 crash off Shetland is ongoing.
Sarah Darnley, 45, of Elgin; Gary McCrossan, 59, from Inverness; Duncan Munro, 46, from Bishop Auckland; and George Allison, 57, from Winchester, lost their lives in the incident.