Scottish government 'failed in nature obligations' in Shetland wind farm case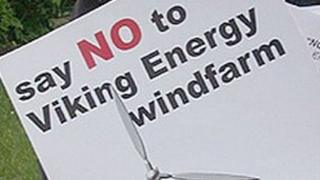 The Scottish government failed to take proper account of its obligations under European nature legislation when it gave the go-ahead for a major Shetland wind farm, a judge has said.
The 103-turbine wind farm, run by community company Viking Energy, would be one of the biggest in Scotland.
Protest group Sustainable Shetland launched a judicial review.
Lady Clark of Calton said she was not satisfied ministers complied with their obligations.
This referred to the Wild Birds Directive 2009, and the breeding whimbrel population.
The judge said she considered that they had not "meaningfully engaged" with the directive.
'Careful regard'
She added: "This case involves a very large, multimillion pound development with important consequences.
"It is plain that this is a case in which it appears not to be disputed by anyone that whimbrel are a declining species in the UK with approximately 95% of 290 breeding pairs in Shetland."
The Scottish government said in its decision letter over the scheme that it had careful regard to the potential impact on the environment, particularly wild birds.
It noted that Scottish Natural Heritage (SNH) took the view that a reduction in the scale of the proposed development was still likely to result in a significant impact of national interest on the conservation status of the UK whimbrel population.
But it was said: "Ministers are not satisfied that the estimated impact of the development on whimbrel demonstrates such a level of significance."
But Lady Clark said: "I am in no doubt that the complete failure of the respondents in the decision letter to address explicitly legal issues arising out of the Wild Birds Directived 2009 and explain their approach to the decision making in the case has caused great difficulty in understanding and dealing with their decision."
The judge said she would have the case continued to allow parties to address her on the terms of the court minute to be prepared.
Raise money
Energy Minister Fergus Ewing granted consent for the scheme in April last year.
Protesters claim the development is too big and would blight the landscape.
Supporters argue it would raise money for the islands, create jobs and help meet renewable energy targets.
The 370MW wind farm is aimed at powering more than 175,000 homes despite Shetland having a population of about 22,000.
It has been estimated the wind farm could bring about £30m annual income for the local community.