Shetland Super Puma crash: Inquiry by MPs into safety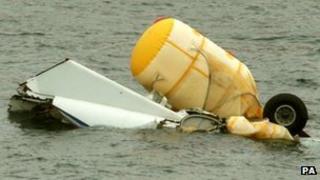 An inquiry into offshore helicopter safety is to be carried out by MPs.
It follows the Super Puma crash off Shetland last month, in which four people died.
The transport select committee has confirmed it is to examine the crash, along with other North Sea helicopter incidents, as part of a wide-ranging investigation.
The committee chairman, Louise Ellman, said there is "worrying evidence" that the workforce has lost confidence.
It is expected that union representatives will be among those brought before the committee.
Industry body Oil and Gas UK said it looked forward to participating in the inquiry.
And a spokesman for the RMT union welcomed the interest shown by MPs - but said it should not detract from calls for a public inquiry into helicopter safety.
An investigation into the CHC-operated Super Puma AS332 L2 crash is ongoing.
Sarah Darnley, 45, of Elgin, Gary McCrossan, 59, from Inverness, Duncan Munro, 46, from Bishop Auckland, and George Allison, 57, from Winchester, lost their lives in the incident.