Shetland Super Puma crash: TUC supports inquiry motion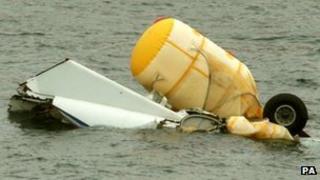 An emergency motion calling for a full inquiry into the Shetland Super Puma helicopter tragedy has been approved by delegates at the TUC conference.
Four people died when the CHC-operated Super Puma came down last month.
The motion included support for workers who refuse to travel on the type of helicopter involved unless their safety concerns have been addressed.
Delegates in Bournemouth said inquiries should be held into the causes of a number of incidents in recent years.
David Hulse, of the GMB union, said workers had "genuine concerns" about the safety of flights.
Jim McAuslan, general secretary of Balpa - the union which represents professional pilots - said: "We believe something is wrong in the North Sea.
"Our association offers our technical and professional insights to help the inquiry get to the root causes and taking the appropriate action to make every flight a safe flight."
An investigation into the Super Puma AS332 L2 crash is ongoing.
Sarah Darnley, 45, of Elgin, Gary McCrossan, 59, from Inverness, Duncan Munro, 46, from Bishop Auckland, and George Allison, 57, from Winchester, lost their lives in the incident.