Nat Fraser case: 'Google factor' blamed in murder appeal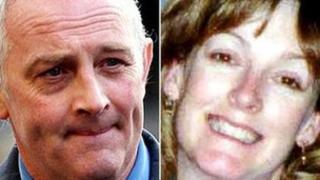 Nat Fraser, the husband appealing against his conviction for murdering his wife Arlene, has claimed the "Google factor" prevented a fair trial.
Fraser, 54, has twice been convicted of hiring a hitman to murder his estranged wife.
His defence team argues that remarks made by a trial witness may have led jurors to carry out online "research" into the case background.
Appeal judges will issue their decision at a later date.
However, if the appeal is successful, a third trial is possible.
Arlene Fraser vanished from her Elgin home in April 1998. She has never been found.
Fraser was initially found guilty of murder in 2003 but started a lengthy appeal process which led to the retrial.
He was found guilty of murder for a second time last year, and was jailed for a minimum of 17 years.
Three appeal court judges are considering the appeal.
Defence QC John Scott told Lord Justice Clerk Lord Carloway, sitting with Lady Paton and Lord Drummond Young, that Fraser's trial should have been halted when cafe owner Sandra Stewart, recalling a conversation with Fraser in the aftermath of his wife's disappearance, let slip that Fraser had recently been in prison.
Mr Scott argued that might have prompted jurors to ignore warnings from trial judge Lord Bracadale and do some research of their own.
Mr Scott told the appeal judges: "The Google factor is now well recognised in this and other jurisdictions."
Fraser's defence counsel argued that a few clicks could reveal a wealth of information on the internet - some of it inaccurate - which could prejudice a jury.
Mr Scott added that, if he were right, the court and prosecutors would have to consider ordering a new trial.
"No-one wants to have to go through that again," he added.
'Intimate knowledge'
Advocate depute Iain McSporran, for the Crown, said Mr Scott was wrong and the murder conviction should stand.
He said there was no reason to suppose the jury would not do as they were told, and no reason to suppose they would link a few days on remand to an attack on Mrs Fraser.
Mr McSporran continued: "It would only be possible for someone with an intimate knowledge of the procedural history of the case to work that out."
He told the judges there was "no logical basis" for arguing that Mrs Stewart's remarks might prompt jurors to ignore the judge's clear warnings.