Support for Simple Minds Stonehaven Hogmanay concert 'overwhelming'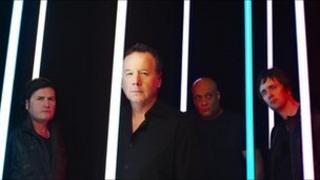 The organisers of a Hogmanay concert in Stonehaven featuring Simple Minds have said they have been "overwhelmed" by messages of support, after an objection to the event was raised.
Frontman Jim Kerr and his bandmates were signed for the town's Open Air in the Square event, which runs alongside the famous fireballs ceremony.
However, Police Scotland have said there were concerns about safety.
Councillors will decide on Thursday whether to grant a licence.
David Lawman, vice-chairman of Stonehaven Festival and Events, said: "We are overwhelmed by the level of support we have received from all walks of life."
Police Scotland earlier made an objection based on public safety. Thousands of tickets have already been sold.
Aberdeenshire Council's Kincardine and Mearns area committee will assess the case.
Simple Minds count Don't You Forget About Me among their biggest hits.