Enterprise Minister Fergus Ewing to visit Buckie Shipyard after 68 jobs lost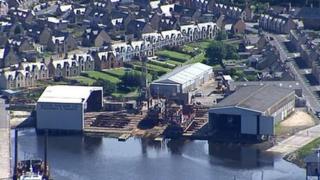 Enterprise Minister Fergus Ewing is to visit a Moray Firth shipyard which went into administration, to discuss ways of keeping skilled workers in the area.
A total of 68 out the 74 staff at Buckie Shipyard were made redundant last month. The administrators hope the historic business can be saved.
Recent clients include the RNLI and the Ministry of Defence.
Mr Ewing said ahead of Monday morning's visit: "Our foremost concern is with the affected workforce."
The shipyard, which dates back to 1903, had also diversified into the offshore wind industry.