MP calls for Piper Alpha-style inquiry on copter safety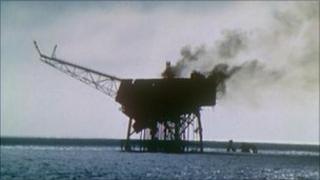 MP Frank Doran has said the North Sea oil and gas helicopter sector would benefit from a Piper Alpha-style public inquiry.
His suggestion follows last Friday's fatal Super Puma helicopter crash off Shetland in which four people died.
The Aberdeen North MP said judge Lord Cullen's inquiry into 1988's Piper Alpha oil platform disaster "revolutionised" safety on rigs.
He said an inquiry covering helicopters could have a global impact.
Mr Doran told the BBC's Good Morning Scotland programme: "We have had five significant helicopter incidents in the last four years with 20 deaths.
"What we need is a root and branch look at transport offshore by an independent source, the type of inquiry that Lord Cullen did after the Piper Alpha disaster.
"That inquiry revolutionised safety not just in the North Sea but across the world."
An explosion on Piper Alpha cost 167 men their lives.
'Isolated case'
Mr Doran said the UK oil and gas industry was trying to move towards a Norwegian-style approach to managing offshore transport.
He said Norway has a better safety record and that workers were involved in discussions on safety, while in the UK there was a "top down" managerial approach to running helicopter operations.
Geir Hamre, chairman of Norway's committee on helicopter safety, said representatives from the offshore industry, unions and air traffic control meet four times a year.
He said Norway grounded Super Pumas as a precaution following the Shetland crash.
Mr Hamre added: "We see it as an isolated case and started flying again."
Aviation expert David Learmont told Good Morning Scotland that Norway appeared to have a good helicopter safety record compared to the UK.
He said that since 1990, the UK has had five fatal incidents and 13 non fatal, while the figures for Norway were three and six.
Resume flights
Last Friday, Super Puma AS332 L2 went down close to shore on a flight to Shetland's Sumburgh Airport from the Borgsten Dolphin rig.
Duncan Munro, 46, from Bishop Auckland, Sarah Darnley, 45, from Elgin, Gary McCrossan, 59, from Inverness, and George Allison, 57, from Winchester, died in the crash.
It was the fifth incident involving Super Pumas in the North Sea since 2009.
The Civil Aviation Authority has said the crash was not caused by airworthiness or technical problems, based on current information.
Helicopter operators have been making arrangements to return their fleets to service after the suspension of flights was lifted.
The CAA said it considered the decision to resume flights as "appropriate".
The flight data recorder is being analysed by investigators.