New plans for Union Terrace Gardens in Aberdeen unveiled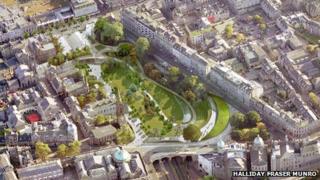 New proposals for a major renovation of Aberdeen's Union Terrace Gardens have been unveiled.
Architect John Halliday has come up with a design which would see the gardens partly raised but remain sunken.
The plans feature an arts centre, civic square and the rail line and Denburn dual carriageway covered over to link to Belmont Street.
The plans also incorporate a new entrance to the railway station.
This is seen as key to increasing footfall in the area.
The future of Union Terrace Gardens has been a controversial issue in Aberdeen.
Major redevelopment plans were rejected by the council last year.