Police raise Simple Minds Stonehaven Hogmanay objection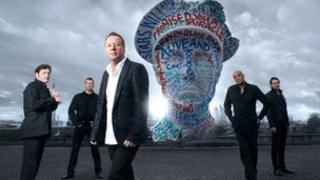 Police have objected to plans for Stonehaven's Hogmanay party featuring Simple Minds on safety grounds.
Frontman Jim Kerr and his bandmates were signed for the town's Open Air in the Square event, which runs alongside the famous fireballs ceremony.
However, Police Scotland said there were concerns.
A spokesperson said: "Based on the information currently available, Police Scotland have made an objection based on public safety."
A spokeswoman for the Stonehaven Festival and Events committee said they were working with the police to iron out their concerns and were still confident the concert would be given the go-ahead.
Aberdeenshire Council's area manager for Kincardine and Mearns, Willie Munro, said: "Public entertainment licence applications have been received for planned Hogmanay celebrations in Stonehaven and are being progressed through the usual channels.
"These will be considered by the Kincardine and Mearns area committee at a meeting on Thursday 5 September.
"The meeting has been specially convened in order to give parties the due period of two weeks notice from the end of the consultation period, as required by law, and in order to have the matter considered as soon as possible."
He added: "All relevant agencies and the organisers have been working cooperatively, and a number of meetings have been held over the course of this year, to consider the issues which arise in planning a major event such as this."
Simple Minds count Don't You Forget About Me among their biggest hits.