Fishing boat Prospect raised from Lerwick harbour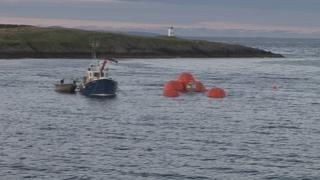 The Banff fishing boat, Prospect, which sank in Lerwick harbour more than two weeks ago, has been towed back to land.
The crew of four were rescued by lifeboat after it struck rocks earlier this month.
Divers using huge airbags managed to lift the vessel off the seabed on Wednesday.
They then towed the boat to a nearby pier in the early hours of Thursday morning.
It was the fourth attempt to try and salvage the vessel.