Union Terrace Gardens money offered for Aberdeen redevelopment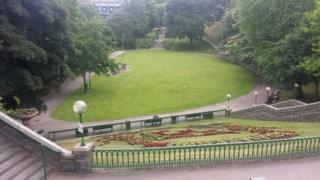 Oil tycoon Sir Ian Wood has said he may give £50m originally intended for the City Garden project to alternative redevelopment plans in Aberdeen.
Sir Ian had personally backed the plan to spend £140m on transforming Union Terrace Gardens.
A year ago it was rejected by Aberdeen City Council.
He left the money in place in case the plan was revived and has now said he might back another "transformational" scheme, if one is put forward.
However, he has put a new deadline in place.
He indicated the details of any new plan for the city would have to be in place by the end of the year.
Sir Ian said: "Twelve months on and effectively nothing has happened. There doesn't seem to be any real progress I'm aware of.
"Apparently there are some thoughts and some plans may come out in October or November.
"But all I'm saying is for the Wood Family Trust needs to move on - and we are moving on with a number of projects.
"But by the end of this year, I believe we're getting close to being too late."
'Move on'
Sir Ian said he would only back a "transformational" project, which meant it would have to be "significant enough to impact on Aberdeen's medium term economic prospects".
Aberdeen City Council leader, Councillor Barney Crockett, said the council was continuing to look at options, but had expected the Scottish government to be "much more enthusiastic" about speaking to them.
He dismissed Mr Wood's deadline as being a major issue.
Mr Crocket added: "I don't think it changes anything.
"We've been in a situation for some time.
"I think it's just critical the council moves on and the city moves on."
Sir Ian retired as chairman of Aberdeen-based oil services firm Wood Group last year.
He had been chairman of the company since 1982 and served as its chief executive from 1967 to 2006.
Sir Ian is currently leading a review of the offshore oil and gas industry for the UK government.