Donald Trump: Chance for public to see second Menie golf course plans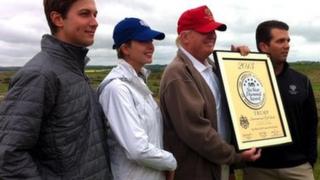 The public is getting a chance to see details of the proposed second golf course at Donald Trump's Aberdeenshire resort.
The American businessman already has outline planning permission for the new course close to the existing links.
He plans to name the new course after his Scottish-born mother Mary MacLeod.
Plans will be show to the public at a marquee on the Menie Estate from noon until 20:00 on Tuesday.
This is part of the statutory public consultation.