Aaron Arthur murder: Stevie Angus on trial over stabbing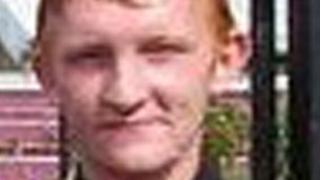 A man has gone on trial accused of a murder in Peterhead and making threats on Facebook.
Stevie Angus, 25, denies murdering Aaron Arthur, 31, at a flat in the town's Longate area in December last year.
He has gone on trial at the High Court in Aberdeen.
The court heard that police found a large kitchen knife which was covered in blood at the scene.
Julie Anne Goodeve, a senior examiner with Police Scotland, said Mr Arthur was found dead wearing only a top, socks and underwear.
Mr Angus is said to have brandished a knife and stated that he would use it, as well as posting threats on Facebook between November and December.
He is also accused of murder by assaulting Mr Arthur by striking him on the body with a knife.
Drug taking
The court heard evidence from Nicole Smith, 22, who had been staying overnight at the flat at the time of the killing.
She claimed to have difficulty remembering events after taking valium, just hours before Mr Arthur was found dead.
The court was told that the night of the incident there were several people in the flat including Victoria Hutchinson, who has since died, and her children; Miss Smith and one of her children; Michael Geddes; Stevie Angus and Mr Arthur.
Miss Smith told Advocate depute Leanne Cross that all the adults had been taking drugs that night.
She said she was sitting on the sofa in the early hours, when she heard a loud noise.
"It was Aaron - lying on the lobby floor," she said.
"Just lying there bleeding."
'Do a runner'
She said Mr Geddes came out of one of the bedrooms and was sick in the bathroom.
He then argued with Miss Hutchinson over whether or not Mr Arthur was still alive.
Ms Smith said she later gave her own flat keys to Mr Angus.
The court heard that when police questioned Miss Smith hours later, she had covered up that he was in the flat.
She said when she was later released she confronted Mr Angus about what had happened.
She said: "Stevie just said, 'I lost it'.
Miss Smith said Mr Angus had needed her keys to get his belongings "to do a runner".
Mr Angus denies the charges against him and claims self defence.
The trial continues.