Aberdeen Art Fair 'could be expanded due to popularity'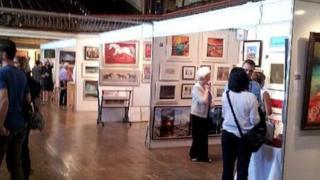 The Aberdeen Art Fair could be expanded, organisers have told BBC Scotland.
Thousands of visitors flocked to the annual event at the Music Hall over the weekend to see hundreds of paintings.
Early discussions have taken place about expanding the event due to its popularity.
It comes as Aberdeen looks for new ways of boosting its reputation after it was eliminated from the race to become UK City of Culture 2017.