Marischal College graffiti: Aberdeen HQ walls now cleaned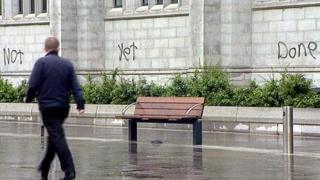 Graffiti from the front of Aberdeen City Council's historic Marischal College headquarters has been successfully removed.
The building, which became the local authority's new base in 2011, was daubed with graffiti in June.
Tests earlier in the week had not given the anticipated result, but the graffiti has now gone.
Christian Weir, 23, of Aberdeen, has been charged with malicious mischief in connection with the incident.