Spat between Aberdeen City Council and Alex Salmond 'will not affect investment'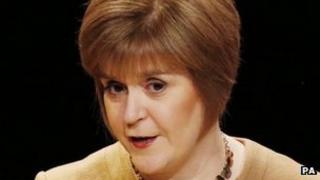 The recent spat between Aberdeen City Council and First Minister Alex Salmond will not affect future investment in the city, politicians on both sides of the row have promised.
Council leader Barney Crockett met deputy first minister Nicola Sturgeon in the city to discuss the issues.
Ms Sturgeon said their working relationship could survive political differences.
Mr Crockett said it was now time to move on from the row.
The issues have included Mr Salmond's unannounced visit to a closure-threatened school in Aberdeen during the recent Donside by-election.
The visit to Bramble Brae was two days before the by-election, which was won by the SNP.
In a recent letter to council chief executive Valerie Watts, Mr Salmond claimed the majority Labour group on the council was in danger of bringing the authority into disrepute.
Mr Crockett responded by saying he would not be "bullied" by the first minister.