Marischal College vandalism: Further tests to be carried at Aberdeen HQ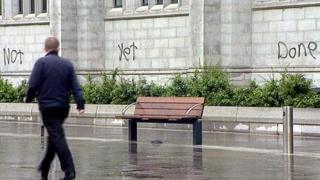 Further trials are to be carried out to find the best way of removing graffiti from the front of Aberdeen City Council's historic Marischal College headquarters.
The building, which became the local authority's new base in 2011, was daubed with graffiti in June.
Earlier tests on a small section were successful.
However further tests on Wednesday did not give the anticipated result and more trials will be carried out.
A council spokesman said: "Further tests using a scouring technique with aggregate to try to remove the paint from Marischal College were carried out first thing this morning.
"While this removed most of the paint from the test section it did not produce the results that had been expected.
"We have therefore arranged for the contractor to return to continue trials with a sharper aggregate.
"These trials are at no cost to the council and are not causing any damage to the granite."
Christian Weir, 23, of Aberdeen, was charged with malicious mischief when he appeared at the city's sheriff court last month in connection with the incident.
He made no plea and was bailed.