Tests carried out on Orkney 'gun'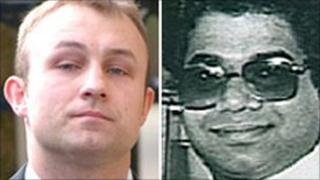 Tests are being carried out on what is believed to be a handgun which was found at a property in Orkney.
It was discovered in the garden of a property owned by former police sergeant John Miller, who died in 2006.
Mr Miller was a friend of another police officer, Eddie Ross, whose son Michael is serving life for shooting dead waiter Shamsuddin Mahmood in Kirkwall's Mumutaz restaurant in 1994.
The murder weapon in the case was never found.
Police have confirmed that an item with the appearance of a handgun had been found at a property in Kirkwall.
A spokesman said there was nothing to suggest it had been used in Mr Mahmood's murder, but that inquiries were continuing into its origin.
Former Black Watch sniper Michael Ross was 15 when Mr Mahmood, 26, was shot in the head.
Ross was sentenced to a minimum of 25 years after being found guilty in 2008.
Mr Mahmood, born in Bangladesh, was shot in full view of a room full of diners, including families with children, by a masked gunman.