Aberdeen Royal Infirmary has still to make cleanliness improvements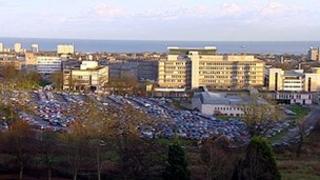 Some improvements have not been carried out at Aberdeen Royal Infirmary a year after they were ordered by inspectors.
The Healthcare Environment Inspectorate returned to the hospital in June this year for a follow-up visit.
Inspectors found dirty equipment, and that a nurse consultant for hospital acquired infections still had not been appointed or advertised.
NHS Grampian said it was pleased with the "predominantly positive report" and would address "shortcomings".
Areas for improvement
Susan Brimelow, HEI chief inspector, said NHS Grampian had made progress to protect patients, staff and visitors from acquiring an infection.
"In particular, senior charge nurses were able to demonstrate a good understanding of their roles and responsibilities in relation to infection prevention and control," she said.
"However we also identified a number of areas for improvement, including three requirements that we identified in a previous inspection.
"We expect NHS Grampian to address these areas as a matter of priority and we will follow up to ensure the improvements are made."
'High standards'
The requirements include ensuring the cleanliness of all patient equipment, and ensuring that all staff implement standard infection prevention and control precautions for waste disposal.
In response, NHS Grampian said: "We welcome this predominantly positive report which notes good compliance with standard infection and control precautions.
"However, there are aspects of the report that are disappointing and in a small number of areas we have not met the normally high standards we would expect.
"These shortcomings are unacceptable and are being addressed as a matter of urgency.
"Staff will continue to work very hard to implement best practice in controlling and preventing the spread of infection."