Findhorn sand dune radiation testing begins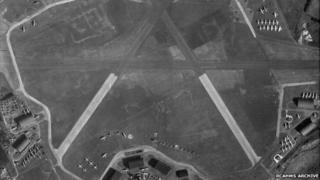 Testing for radiation contamination at sand dunes near the former RAF Kinloss base is under way.
The Findhorn site was identified last year as posing a possible health risk.
Hundreds of aircraft were dismantled there after WWII. It is thought instruments with radioactive paint were buried in the area.
Moray Council and the Scottish Environment Protection Agency are beginning their investigation work by digging test pits.
They are trying to establish the extent of contamination from instruments whose dials were coated with radioactive luminous paint.
It is thought more than a 1,000 aircraft were broken up, burned and buried at the site following the war.
The authorities believe the residue could pose a risk to human health and the environment.
The land at Kinloss is no longer owned by the Ministry of Defence but is one of nine sites in Scotland - including Dalgety Bay in Fife - thought to be contaminated in this way.
Kinloss was closed as an air force base in July last year as part of the UK government's ongoing programme of defence cuts.