Kittens found in air conditioning unit in Aberdeenshire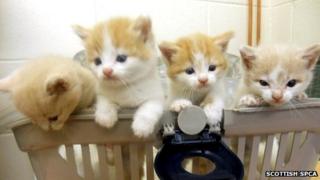 Four kittens have been rescued after being found in an air conditioning unit in Aberdeenshire.
The Scottish SPCA was alerted by staff who heard them meowing at Technip in Westhill.
The kittens, thought to be about three weeks old, have been taken to the animal charity's Drumoak rescue centre.
Centre assistant manager Debbie Innes said: "It's possible mum either had her litter there or moved them inside as a place of safety."
She added: "The kittens were very hungry when they were found, as well as a little red around the eyes due to them drying out while they were trapped.
"After a good feed they have come out of their shells, showing their mischievous and playful sides.
"They are all receiving treatment for their dry eyes and still have quite a mountain to climb before they can be rehomed but we're pleased with their progress so far."
Staff have named them Dusty, Harrison, Crystal and Morgan.