Marischal College vandalism: Method to remove graffiti 'found'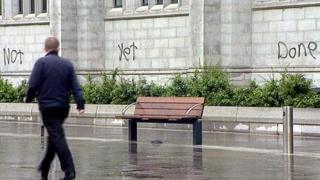 A method to remove graffiti from the front of Aberdeen City Council's historic Marischal College headquarters appears to have been found, BBC Scotland has learned.
The building, which became the local authority's new base in 2011, was daubed with graffiti in June.
It is understood tests to remove a small section of graffiti have been successful.
It is hoped a more extensive test will be carried out on Monday.
The scouring technique is aimed at gradually eating the paint with no adverse effect on the building itself.
Thousands of pounds
It would take about a week to completely remove the message, but the work can only be undertaken in dry conditions.
The cost of the repairs is expected to be thousands of pounds.
Christian Weir, 23, of Aberdeen, was charged with malicious mischief when he appeared at the city's sheriff court last month in connection with the incident.
No date has yet been set for Mr Weir's next appearance.
He made no plea and was bailed.