Sumburgh Airport alert over Shetland plane 'problem'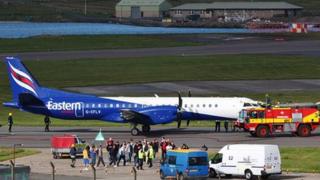 Sumburgh Airport in Shetland was put on full emergency footing when a problem developed on an incoming plane.
There were 35 people on the Eastern Airways Saab 2000. The alarm was raised at 17:10 on Wednesday.
The police and the fire and rescue service sent units to the airport, the coastguard rescue helicopter prepared to take to the air, and Lerwick Lifeboat also launched.
The aircraft landed without incident at 17:45.
Eastern Airways said the mayday was declared as a precaution following a warning indication light in the cockpit.
It said this was due to a fault with a component relating to one of the aircraft's onboard warning systems.
A spokesman said: "The 32 affected passengers were being re-accommodated on the next available flight to Aberdeen.
"We apologise to customers for the inconvenience experienced, however the safety of our passengers and crew is of paramount importance and we will not operate an aircraft with a technical-related fault until the problem has been rectified."