Trains resume after latest thefts on Aberdeen to Inverness line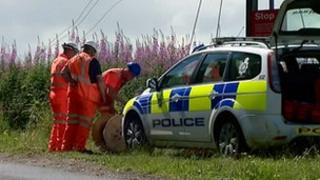 Normal rail services have resumed after more cable was stolen from the Aberdeen to Inverness railway line.
Network Rail said a further 100m had been repaired between Huntly and Inverurie by mid-afternoon.
Train services had just been returning to normal on Tuesday after about 800m of cable was cut the previous night near Leith Hall, Kennethmont.
The first theft saw a mile of signalling cable stolen. British Transport Police are investigating.
ScotRail said the first scheduled train to operate would be the 15:28 Aberdeen to Inverness service.
Justice Secretary Kenny MacAskill told BBC Radio Scotland's Good Morning Scotland programme metal theft was not a victimless crime.
He said: "Whether it's the danger to life and limb on a railway track, whether it's the theft from war memorials that are deeply distressing - it's entirely unacceptable.
"But all of this is big-time serious organised crime, a lot of it comes from the value of metals because a lot of it is being exported to south east Asia or elsewhere.
"We are taking action and indeed there is some sign of progress notwithstanding that these recent incidents have highlighted the social and economic consequences for our country."