Piper Alpha: 25th anniversary of disaster remembered at ceremony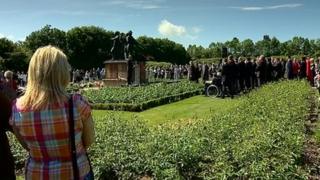 The 25th anniversary of the Piper Alpha disaster, in which 167 men died, has been remembered.
The North Sea tragedy happened on 6 July 1988 when explosions and a fireball ripped through the rig.
A rededication ceremony and remembrance service was held at the Memorial Garden in Aberdeen's Hazlehead Park on Saturday morning.
A Sea King helicopter from RAF Lossiemouth opened the service by conducting a fly-past.
The ceremony included a roll call of those lost in the disaster.
The service was conducted by Rev Gordon Craig, the chaplain to the oil and gas industry.
He said: "It was emotional. There were a lot of tears when the piper played his lament."
The minister said it was important the anniversary was marked.
"Piper Alpha's taught the industry a lot of things," he said.
"Sadly it took the lives of 167 men for it to learn some of the lessons. But the safety of the North Sea has improved beyond all recognition."
In total, 61 men survived the disaster. One of them, Roy Thompson, told the BBC how he jumped from the burning platform.
"My mind was made up for me, my feet were on fire and so was my boiler suit," he said. "There was no thought to it, if you're on fire you'll jump.
"To hear the names of the men we lost read out today was very emotional."
The tragedy shook the industry, and directly led to more than 100 changes in safety practices. Since procedures were changed, fatalities have fallen.
Prime Minister David Cameron wrote to industry body Oil and Gas UK to mark the anniversary.
He said: "The 25th anniversary of the Piper Alpha disaster is a fitting moment to mark the skill, bravery and dedicated professionalism of all those who work offshore.
"We will never forget the 167 who lost their lives. And my thoughts as Aberdeen remembers its loss are with their families and loved ones, the survivors and all those involved on that tragic night."
New generation
Meanwhile, an online educational resource to help teach pupils about Piper Alpha has been launched.
Accessed via the teachers' intranet, it is an online space where teachers can share ideas and discuss approaches to including the disaster in lessons.
The site features interviews with survivors, and news and documentary content.
First Minister Alex Salmond said: "The 25th anniversary has rightly had a substantial emphasis in making sure that the new generation of offshore workers understand the importance of Piper Alpha in creating the current offshore safety regime.
"However, given that the oil industry will be with us for the next half century and more, we also have a responsibility to ensure that new generations of Scots understand the significance of the world's worst offshore disaster."