Aberdeen City Council headquarters is vandalised with graffiti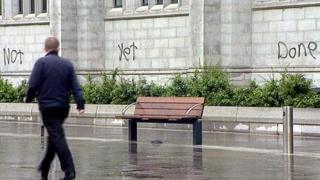 Witnesses are being sought after Aberdeen City Council's headquarters was vandalised.
Historic Marischal College, which became the local authority's new base in 2011, was daubed with graffiti.
The graffiti on the granite reads: "Ye have not yet done as ye ought".
Deputy council leader Marie Boulton said: "I am appalled that anyone could be so thoughtless and show such disregard for the city as to deface such a beautiful building."
The council said the graffiti cannot be easily removed, and specialist advice was being sought as to how to do this without damaging the granite.
Further graffiti on the Queen Street entrance to the council's nearby Town House building - "Weilders (sic) of power beware" - has already been removed.
'Brought to account'
Ms Boulton added: "This person has not only damaged Marischal College, but in doing so will cost the public purse thousands of pounds to pay for the clean-up costs, police investigation and court action.
"Fortunately, we have been able to remove the illiterate scrawl from the Town House without any lasting damage being caused to the building.
"I sincerely hope that the person responsible for this is caught and brought to account and would urge anyone who knows who did this or who has any information about it to contact the police."
Sgt Brian Cumming echoed: "We'd be keen to speak to anybody who saw something at that time to contact police."
Marischal College was transformed into the council's HQ in a three-year £65m project.